Analagous Reasoning Fail
October 15, 2010 at 9:34 am | Posted in
Being Random
|
2 Comments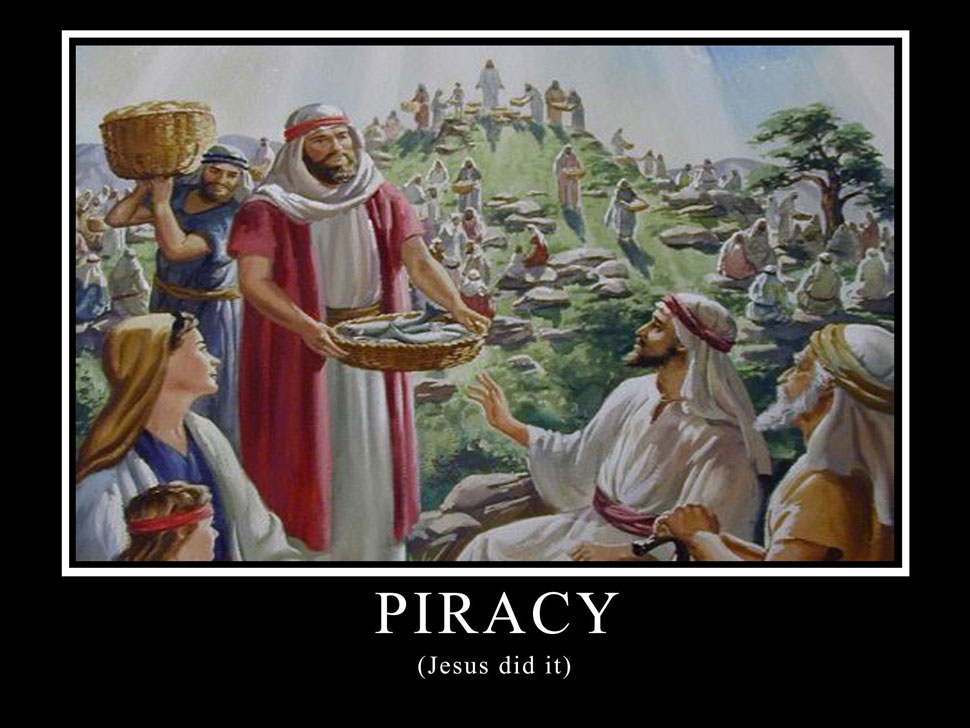 (courtesy of Boing Boing)
The idea behind it is funny, but it isn't accurate.
Here's why…
(1) Fish and are generally not copyrighted. So it isn't a crime to copy it.
(2) Assuming that fish were copyrighted, God would be the patent holder. Since Jesus is God (don't ask me about theology of the Trinity), it isn't a copyright infringement. A copyright holder is entitled to make copies of the patented items.
As for the bread, it is arguable that the bread may be copyrighted if the baker decided to patent a special method that he used or a new flavour that he came up with. However, if the bread is baked in a manner that is available in the public domain, then Jesus did not violate any copyright laws.
But the idea behind the picture is funny though.
2 Comments »
RSS feed for comments on this post. TrackBack URI
Hmm… So serious. :p

Comment by Blurryangel— October 15, 2010 #

WANG KIT! mon 8:30 Okto & sat midday 'naughty naughty God Delusion! Noh, free science, naughty Jesus, possible schizophrenic, probably historical character. He take holiday in India den become avatar of Vishnu. naughty syncratic belief system!'

Comment by uncle wang kit— December 10, 2010 #
- Blogs For Singapore | Singapore Bloggers - | Theme: Pool by Borja Fernandez.
Entries and comments feeds.